Free Topcon LN100 Intro Lunch and Learn, May 15-17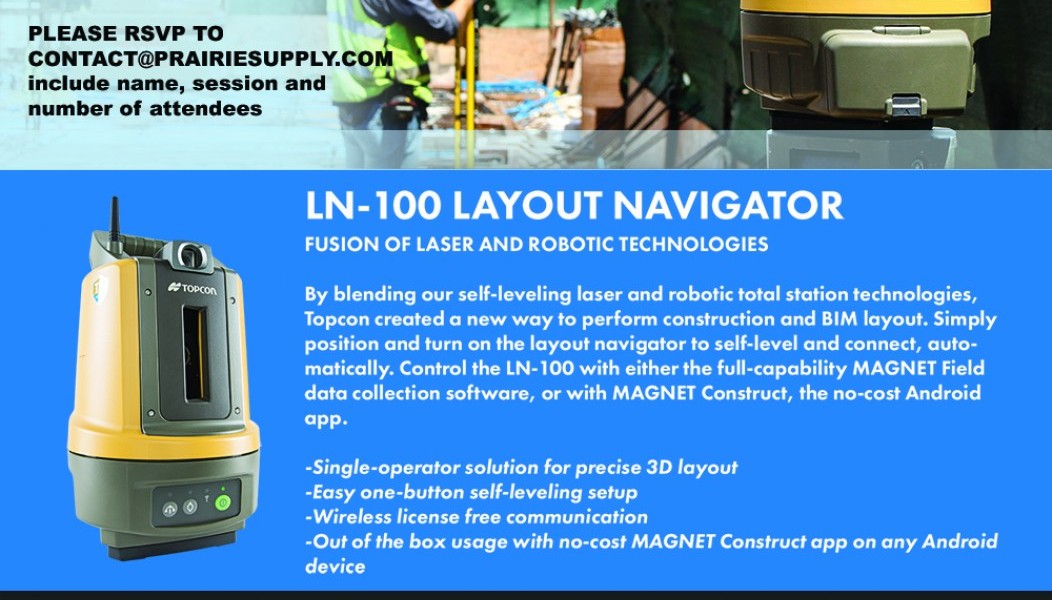 Related Industries, Prodcuts & Services
Join Prairie Supply inc.and Topcon for a free hands on introduction to the powerful and intuitive LN100. The LN100 is an innovative layout tool for quick, precise and interactive construction layout, an ideal tool for any type of construction, but an exceptional benifit to the concrete contractor. May 15-17 in Minot, Bismarck and West Fargo.
WHEN: Tuesday May 15 (MINOT PRAIRIE SUPPLY), Wednesday May 16 (BISMARCK PRAIRIE SUPPLY), Thursday May 17 (WEST FARGO PRAIRIE SUPPLY)
FROM TOPCON:
By blending our self-leveling laser and robotic total station technologies, Topcon created a new way to perform construction and BIM layout. Simply position and turn on the layout navigator to self-level and connect, automatically. Control the LN-100 with either the full-capability MAGNET Field data collection software, or with MAGNET Construct, the no-cost Android app.
Single-operator solution for precise 3D layout
Easy one-button self-leveling setup
Wireless license free communication
Out of the box usage with no-cost MAGNET Construct app on any Android device
WHERE:
Tuesday May 15 in Minot ND (2219 Elk Dr. Minot ND 58701) Wednesday May 16 in Bismarck ND (2116 E. Front Ave. Bismarck ND 58504) Thursday May 17 in West Fargo ND (524 7th Ave. NE, West Fargo ND. 58078)
For your convenience, we will be holding 2 seperate hands on sessions at each event. One before and one after lunch. (Lunch will be served at noon)All Sessions (including lunch) will be free, but we do ask atendees to RSVP with a Prairie Supply Salesperson by calling 1-800-443-1398 or to contact@prairiesupply.com