Free Decorative Concrete Training in Bismarck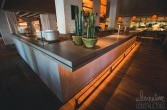 Published May 10 2018
Prairie Supply inc. and SureCrete Designs invites you to attend this FREE TRAINING event. This hands on training will cover the following:
XS Concrete Countertops
• XS Precast- State Of the Art Concrete Countertop Mix
• XS Veining- Great Technique for creating unique looks
• XS-327 & PC-12 - Best in industry sealers
DK Metallics & Flakes- (Epoxy Coating Systems)
• ColorTec 280
• Flake Chip
• DK-120

Repair Overlay System (For Spalled Concrete and Decorative Looks)
• SCT-22
• Flash Patch
• Surebroom
• ColorTec Acrylic
Surespray Wet Bubble Tape Pattern (For Repair and Decorative)
• Surespray
• Fiber Tape
• HS-200
Stained Concrete Overlay
• TruTop Grey
• Eco Stain
• DK400 WB Gloss
TruTop Concrete Wood Texture Overlay
• TruTop
• Eco Stain
• DK400 WB Satin
In addition to these cutting edge decorative concrete techniques, we will also be serving FREE LUNCH both days. DO NOT MISS THIS AMAZING FREE EVENT. A similar event was held in Fargo recently and it was a huge success. No Registration necessary!
WHEN: Thursday May 24 - 9:00AM - 3:00PM, Friday May 25, 9:00AM -12:00PM
WHERE: Bismarck Prairie Supply inc. 2116 E. Front Ave. Bismarck ND, 58504
Prairie Supply Recommended Additional Resources