Topcon LN-100 Layout Navigator
FUSION OF LASER AND ROBOTIC TECHNOLOGIES
By blending our self-leveling laser and robotic total station technologies, Topcon created a new way to perform construction and BIM layout. Simply position and turn on the layout navigator to self-level and connect, automatically. Control the LN-100 with either the full-capability MAGNET Field data collection software, or with MAGNET Construct, the no-cost Android app. Prairie Supply inc. has a trained staff in West Fargo, Bismarck, Minot, and Grand Forks, North Dakota ready to demo the powerful LN-100 in our showroom or on your next project.

LAYOUT, REINVENTED
Leveraging over 80 years of innovation in optical technology, the LN-100 layout navigator from Topcon was engineered for your specific requirements. A glass prism on a lightweight pole combines with a thin touchscreen tablet so you can focus on the next step ahead. The layout navigator automatically remains locked firmly on the prism, for real-time positioning on the go. Built to perform on any project that demands confident, precise 3D positioning at up to a 100m working radius, the LN-100 is a user-friendly, out of the box solution.
LN-100 Layout Navigator is perfect for:
The world's first 3D positioning system designed specifically for construction layout.
The frst time you see it you know it 's unlike anything you've seen before. Its clean, innovative design tells you that the LN-100 is a game changer. The LN-100 strips away complexity to deliver an easy-to-use tool dedicated to construction layout. The LN-100 utilizes Topcon's time-proven laser and robotic total station technologies to create a totally new tool that's easy to use, without sacrificing the accuracy and versatility demanded for all types of construction layout.
With the press of just one button, the LN·100 automatically self·levels and is ready for action. Fire up its hand-held, touch-screen controller and you are ready to go to work.
With the wireless controller, call up simple point layout or large CAD drawings - right in the palm of your hand, anywhere on the site. Display the design point or line that needs to be staked out, touch it, and the LN-100 laser immediately points to the exact location. it can also lock onto a prism and guide you to the next design points. One-person layout has never been this easy.
From traditional utiity layout, to foundations. electrical, plumbing, walls, ceilings, HVAC. and much more, layout anything on the jobsite up to 100M away. Never before has construction layout been so powerfuly simple.
3D layout tool
The LN·100 is a compact, self-leveling, easy-to-setup 3D layout tool designed for construction layout.
Use the LN-100 instead of theodolites tapes or other layout tools. Compact, rugged and very light weight. the LN-100 is ideal for construction layout and as-builts
When paired with the FC5000 Field Controller, the system is as powerful as it is easy to use.
FIELD FIT
Powerful, tough, and versatile, the FC-5000 is brings the processing speed expected in the office directly to your project site. Your daily field computer just arrived and it set to impress.
Sunlight readable 7 in. display
Intel® Atom™ Z3745 processor
MIL-STD-810G and IP68 certified
Windows® 10 operating system
8 MP rear camera, 2 MP front camera
Integrated 4G LTE cellular module (optional)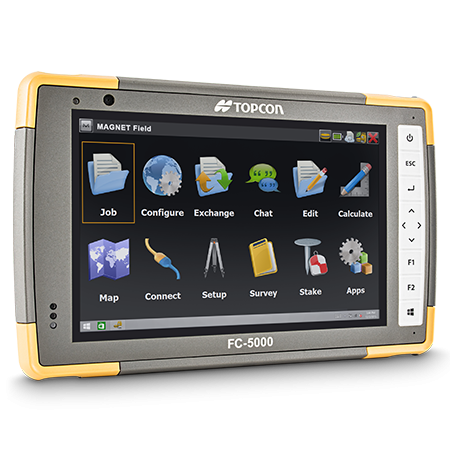 APPLICATION READY, SOLUTION ORIENTED
This handheld field computer arrives ready not just for the harsh elements, but also eager to turn your large design files into reality. The first clue is the impressive IP68 certification that proudly proclaims its potential readiness to be submerged down to one meter for up to 2 hours.
Second is the Intel® Atom™ Z3745 Processor that easily drives all Topcon software - and then some. The familiarity of Windows 10 makes a comfortable platform ideal for intuitive sessions within either MAGNET® Field data collection software for survey-based projects or Pocket 3D for a construction focus.
The optional internal 4G LTE cellular modem keeps you up to date through secure connections into either MAGNET Enterprise or Sitelink 3D web services. Pure project management made easy.
Features and Benefits
Single-operator solution for precise 3D layout
Easy one-button self-leveling setup
Wireless license free communication
Out of the box usage with no-cost MAGNET Construct app on any Android device