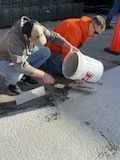 U.S. Army Corps of Engineers & DOT Specifications
Prairie Supply Inc. works closely with DOT regulations across our region. Let our estimators help make sure the right tools and material are getting bid on your next project. Prairie Supply Stocks a full line of DOT certified/recommended: Cures and Sealers, Epoxies and Fasteners, Erosion Control and Geotextile Fabrics, Finishing tools and Equipment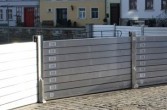 Flood Control Specifications
Our Engineering team and partners are very familiar with the US Army Corps of Engineers EM manuals for Retaining and Flood wall design,Closure Structures and Hydraulic Steel and Aluminum Structures design.
We ensure that our closure structure product design
consists with the specific characteristics of flood with consideration to rate
of water level rise and duration of need for closure, velocity and other
relevant hydraulic parameters.
Our closures are complying with the FEMA technical
requirements for an easy process of evaluation and complete project
certification.