Carrollton Floodwall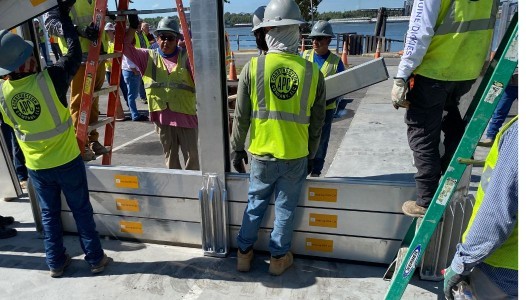 The U.S. Army Corps of Engineers, New Orleans District, recently awarded a contract for the Mississippi River Carrollton Floodwall project in New Orleans. The $8.9M construction contract was awarded to APC Construction, LLC of Algiers, La. Construction is expected to begin in late September and be completed by March 2022. The work consists of installing a combination of permanent floodwall and deployable floodwall system along the Mississippi River at the New Orleans District's Headquarters. Work will include placement of steel sheet and H-piling, construction of reinforced concrete floodwalls and deployable floodwalls, concrete scour protection, asphalt pavement, and other related incidental work.
Location:

New Orleans, Louisiana
Flyover view of the installation and inspection of the deployable floodwall, as part of the Carrollton Floodwall project. During the flyover crews install a deployable floodwall, the first time the Corps has used this approach in south Louisiana.
The Carrolton Floodwall is constructed to an elevation of 25.5 ft and addresses what was one of the most deficient reaches in the Mississippi River Levee system.